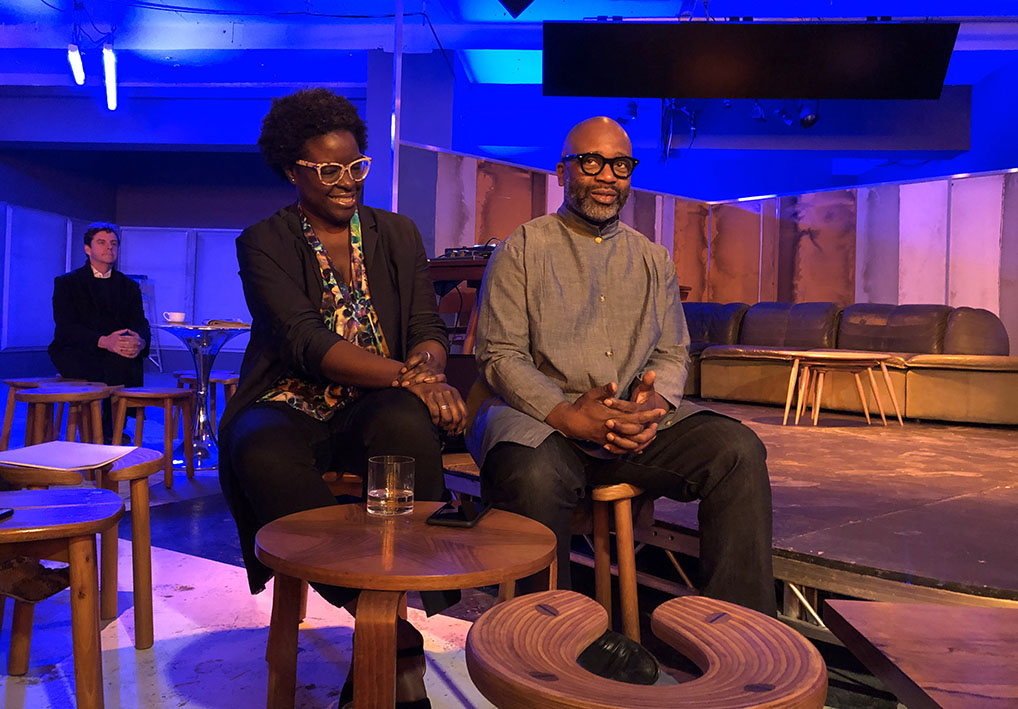 Art

Theaster Gates – What else can art be?

In his practice the American artist explores what else art can be.

Over the last months Theaster Gates has spend a lot of time in the UK. During Frieze Week he created Prada Mode, an initiative by the Italian luxury brand to create a "travelling social club with a focus on contemporary culture that provides members a unique experience". Prada approached Gates to do an installation at 180 The Strand in London as he is able to reactivate derelict spaces and brings people together to create thriving communities.

Later that week, at Frieze Academy's Art & Architecture Summit, Gates spoke with Elvira Dyangani Ose, director of The Showroom, more in-depth about his practice. She is a member of the Thought Council at the Fondazione Prada where she curated Gastes's exhibition 'True Value' in 2016 and they collaborated on Prada Mode as well.

In December, Gates travelled to The Centre of the Creative Universe for the installation of his first UK solo exhibition at Tate Liverpool. The show is called 'Amalgam' and features a series of installations based on a true story that occurred in Malaga, a small island off the coast of Maine. At the beginning of the twentieth century a state governor wanted to create a tourist destination of the island and ordered the eviction of the ethnically mixed community. The plan was never realised but the island's community was horribly treated. Fascinating is the film of the slow moving choreography of dancer Kyle Abraham dancing on the island.

As I arrived early at the Art & Architecture Summit I read the program with a fantastic line-up of leading architects and artists. In the introduction on Gates, it stated, "In 2010, Gates created the Rebuild Foundation, a non-profit platform aimed at galvanizing communities through neighbourhood regeneration and the development of educational and arts programming and amenities". During his conversation with Dyangani Ose, Gates talked about his motives to build all these spaces.
"I have been thinking a lot about why did I build these spaces? I have to admit that the intent was not kindness to black people. It wasn't, 'I want to make the conditions better so that people could experience streets of gold'. It was much more a cerebral intent. I wanted to play with space and I thought there are a lot of ways to play with space. If this building is abandoned what changes the state of a place from being considered abandoned to not abandoned? In some cases the change was simply that I would be in the building and as soon as I occupied the building it not longer had the preconditions of abandonment".

Earlier that week I met Gates at the press view of Prada Mode. He is congenial, articulate, able to project his voice clearly and at times earnest. He has a remarkable way of speaking to a group of people. Gates formulates his sentences like great orators such as Barack Obama and Martin Luther King. He pauses in-between his sentences to give his audience time to sink in his words. He contemplates all the pros and cons of each project he is considering to take on. He avoids critical questions by bringing up these questions himself and answering them.
"Why would anybody allow themselves to be complicit in with a money-making organisation like Prada?" was for instance one of the question Gates asked himself. "One of the things I realised when I was having these conversations with Miuccia [Prada] that she in fact is an artist who accidentally did really well making a family business grow from something very little to very big. When I talk with Miuccia about the things that she believes in, those things align very deeply with the things that I believe in. There is time for the business of art, the business of culture and there is time to make time.
[pause]
If Mrs. Prada wouldn't have found the time to look at my work and offer me the opportunity to have an amazing exhibition at the Prada Foundation then parts of the story of my practice that wouldn't be evident. If Elvira wouldn't have taken the time to curate those things up, then there is a body of work that the world wouldn't have known. I've also benefited from other peoples' platforms, I have been amplified in that sense [by others]… I'm thankful".
The topic 'artists working with commercial brands' was still on Gates's mind when he later mentioned a conversation he had with the artist Isaac Julien about an endorsement Julien did with Puma sportswear. "Some of the Puma endorsements with artists didn't go so well, but in Isaac's case they did. He filmed a professional Japanese swordsman who in the most beautiful athletic way was slicing wind on a beach. Puma was never mentioned but there was something about the athleticism, choreography, cinematography that make this moment so beautiful to me. It's really cool in this case with Prada that they didn't ask me to make a Prada event. They gave me permission to make a platform".

Gates elaborated on what kind of platform he envisioned. "We wanted to take this opportunity this year with Prada Mode to have a party plus. The plus would be – instead of purely an amplification of my practice – to use the space at The Strand and Prada's generosity to amplify the practices of other UK artists of colour. Essentially what I've done is try to create a context so that amazing emerging and post-emerging artists [work] could be seen and where amazing artists, musicians, performers, critics and writers can use the space to really get to know each other".
Gates explained that the mission and intent of Prada Mode is to facilitate an opportunity for talented emerging UK artists to network to one another or have access to 'senior' artists and curators that would connect us all. "Maybe in a way that a party can't although I like to believe parties connect us," Gates smiled.
When Gates announced that he opened the floor for questions I asked him how he succeeds in making thriving communities. Are there certain conditions you need in order to make it work?
"In some ways I have no control and it is not the goal. What I've learned with community formation is that there are some things that you can do with the preconditions. I can't make people have a good time tonight, but there are certain pre-conditions that I could create in a place.
"And sometimes the preconditions change. This time my shipping container was late. All of the stuff that I brought from the United States in order to make this space special came too late to be used. I still have the burden of making something great to happen".
[pause]
Mark Wadhwa, the owner of the Strand, was then able to let me use his stuff. So between his stuff and some of my stuff we were hoping to create an energy that is somewhere between a living room and an alternative space. In some ways the alternative space is becoming a third place. With Prada Mode, Elvira and I are not trying to invent a club. The invention is really warmth. I hope visitors will feel comfortable here".
Another person asked Gates if an artistic practice is the best location for one's activistic intent.
"I don't know. What I like to image is that art school is teaching young people how to have deep convictions and how to give those convictions form. I'm not sure that art schools should try to teach art. I don't think that business school can teach people to be good business people. I actually think business schools needs to teach business people ethics. Business without ethics leads to tyranny. A business school imagines that all it has to teach is business – that feels short sighted.
Could art be a good place for one's activistic tendencies? Absolutely. Does it always make good art? Absolutely not. Some people should be politicians because their aesthetic capacity probably fits better in the political arena than it might in an artistic arena. For me, it is a question of form. I don't need Prada Mode, the Strand or Frieze in order to create a good social environment. But to give form during Prada Mode or Frieze it has special conditions that are different from my everyday experience.
What I'm finding is that there are moments when I'm just doing my things in my world on the south side of Chicago. Then the art world is saying "that is interesting can you do that over here?"
[pause]
"Artists have the ability to say things through a form that will make people listen differently than if you are protesting or if you are writing. I don't write. It is not my form but I would say that my form is no less active, no less potent".
Written by Thierry Somers
Theaster Gates, Amalgam, Tate Liverpool until 3 May 2020