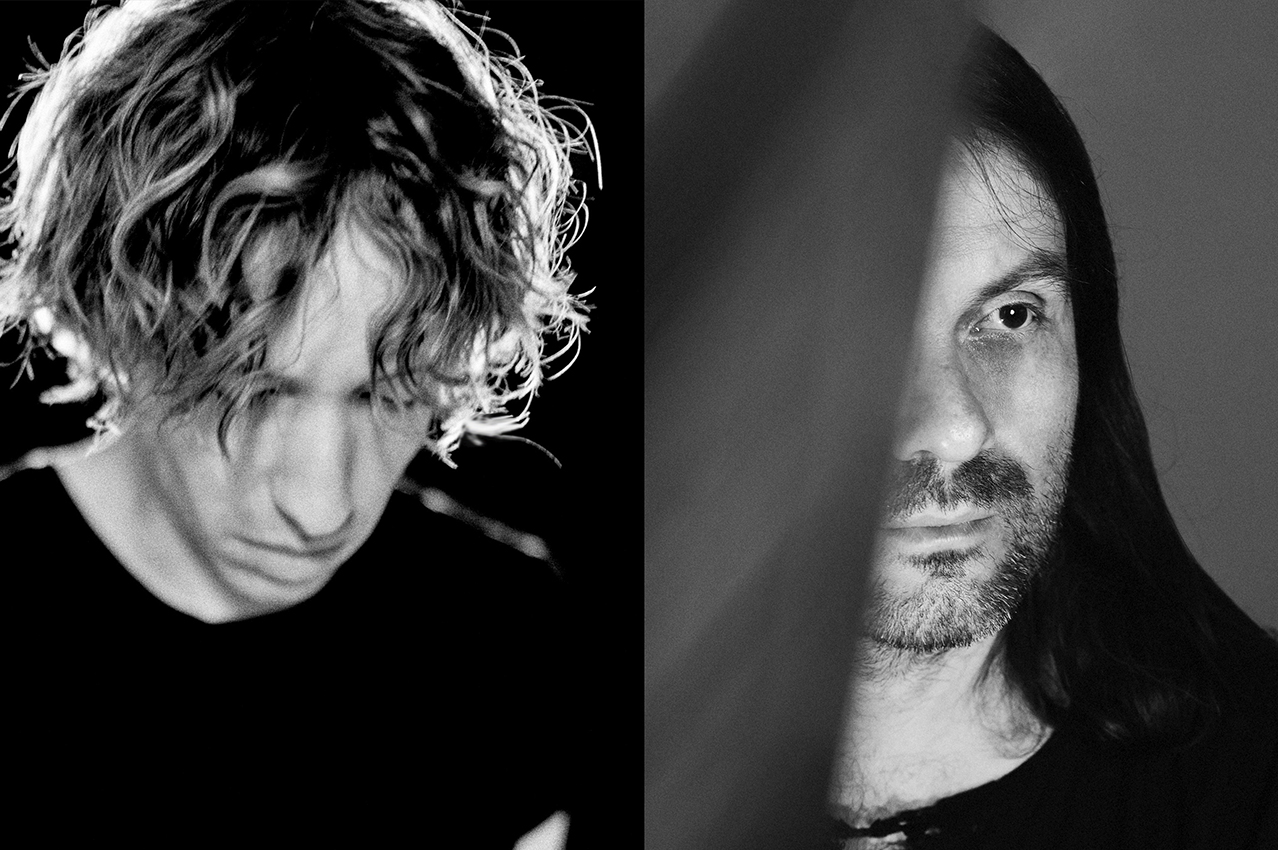 Music

Channeling the energy of the music

Daniel Avery and Alessandro Cortini on their debut album 'Illusion of Time'.

In a recent interview in Wired magazine, Thom Yorke, expresses his frustration with the way that today's internet has changed music discovery. "You're not being challenged if you're in some weird feedback loop with stuff you've already done," the frontman of Radiohead argued. "When music itself is starting to follow the algorithms – then you're really fucked."

Yorke has a point that the YouTube and Spotify algorithms will offer you more of the same music and less surprises. I was, though, thrilled when the YouTube algorithm served me after playing Autechre's 'VLetrmx'; Alessandro Cortini's 'Scappa' – an intense ten minute track that gradually builds up the tension to a climax. At some point I would have discovered Cortini's music myself, but thanks to the algorithm I was happy I did. I delved deeper into his discography and became curious how he created these mesmerising sounds.

On the Internet you can find some videos where you can see what an innovative and resourceful musician Cortini is. In his home studio he plays a track from his album 'Avanti' on a cassette recorder that he uses as an instrument (Tascam Portastudio 414MKII) and tracks from his album 'Volume Massimo' for which he used a vintage synthesizer (Buchla 200). In another video he gives a demonstration of the Ondomo – a Japanese revitalisation of the ondes Martenot. Cortini wears a ring on the index finger of his right hand that is connected to the instrument by a thread so he can play with continuous pitch control. On tours he recorded ambient sounds in his hotel room such as water running in his bathtub and opening doors or windows. On his Instagram account he posts pics of new kits he is building or announces that one of his albums is released as a limited edition cassette.

His latest project is a collaboration with Daniel Avery. In 2017 they reached out to each other via social media. That summer they both played at the FYF Festival in Los Angeles. Cortini joined Nine Inch Nails (NIN) as a keyboardist and Avery was DJ-ing. At the festival they released a limited edition 7-inch called 'Sun Draw Water'. In 2018 their paths crossed again when Avery was the opening act of the NIN tour.

The 7-inch was not a one-off as Cortini and Avery released their debut album 'Illusion of Time' last month. The creative process was remarkable as they didn't work on the album in the same room but exchanged music files whilst traveling around the world. They only worked one day together during a spare day on the NIN tour where they finished the album in a makeshift studio in New York.
Over a what's app call from their studios in London and Berlin, Avery tells me that making the album with Alessandro was one of the most enjoyable projects he worked on and they already discussed a follow-up. The worlds of the ingenious Italian synthesizer composer and the British underground dance producer and DJ merge together beautifully on 'Illusion of Time'. Their collaboration is greater than the sum of its parts. They present a fascinating mix of industrial, ambient and electronic music without beats.
On his walk down to the studio Avery recorded with a microphone the sound of machinery in a distance or the hiss of the wind that he manipulated for some of the tracks on the album. The songs are very visual and conjure up cinematic images when you listen to them. The opening track 'Sun' feels like a sun slowly rising above a barren desert; the title track of the album is a mellow song with a retro vibe and 'Inside the Ruins' is a petrifying, apocalyptic track that brings to mind the war against the machines scene at the beginning of Terminator II.
In this interview Cortini and Avery talk about the experience of creating an album by exchanging files; channeling the energy of the music; their love for 'used' sounds, and Cortini's approach to music making as child's play.

200%: What made you interested to collaborate?
Alessandro Cortini: We were both fans of each other's music. I really got into Daniel's 'Drone Logic' record when it was released in 2013. We ended up working together out of fondness for each other's music and respect for what we are doing. To be honest, we didn't really talk or think about our collaboration – it just happened. We just sent each other files with 'seeds' or unfinished ideas and developed them further. It was a very 'weightless' collaboration in the sense that it didn't feel there was any responsibility like when you work in a studio together where you might show off to each other or [have to] feel productive.

Daniel Avery: I think 'weightless' is the perfect description for how the whole project felt. There was no master plan or preconceived ideas. We didn't say it should sound a bit like your music and a bit like my music. We didn't even get to anywhere near that conversation. I believe you can hear that freedom in the music itself.
When we finally met up to finish the album we had everything together – 95% of the album was done remotely. In the studio in New York we listened to all the material and looked at each other and said "we have a finished article in our hands" – almost without knowing it. We just wanted to do a final piece to close the album so the track 'Stills' was made in that studio at that time. During the whole project there was no pressure, no deadline, nothing was forced, it just came to fruition naturally. I love that and I believe you can hear that on the record.
200%: Was the album built around the two tracks you released in 2018?
AC: It was more of a continuation. Originally Daniel had sent over a couple of ideas for a collaboration and two of them ended up on the 7-inch.
DA: When I heard the finished versions of 'Sun' and 'Water' I knew for certain we had something and that we should explore this further. The way in which our musical styles merge together and create something new out of it – that neither of us would have done on their own – is a magical moment.
200%: What did you learn from working with each other?
DA: One thing I learned from working with Alessandro is this: he takes a step back from the music and allows it to have it a life on its own. If a track feels it needs to be ten minutes long then that's how long it should be. It's almost like you're channeling the energy of the music. You shouldn't be restricted by any outside forces.

AC: My approach to music making is like child's play. I create without thinking too much about any responsible behaviour. When I make music I just keep my little 'emotional antennas' up and when I find something that makes them vibrate that's where I go. Working on Daniel's ideas, and our record in general, was just the exact same thing. In the last six years I've learnt not to get stuck into things that make myself second-guess or self-doubt. When something is too frustrating than it's definitely not the right way to do it. I try to delegate it to people that might find it inspiring. For example, the mixing of the album. We had decided that I was going to mix the album but it became very frustrating because my abilities weren't sufficient enough to bring us to a point where we both felt that the sound of the record was going where it was supposed to be. We delegated the mixing to Martha Salogni someone we both respected and it was very exciting to have her on the team. As soon as I feel frustrated I usually move away. I'm like a child; if I get frustrated with a toy I move to another toy.

200%: Daniel, was it strange to make an album without beats?
DA: It was not strange in fact it was a complete relief in so many ways. Ambient and Drone music has always been important to me. I've always made it and it has formed me. To make something that didn't need to work in a club was extremely liberating. Elements like the reverb that can come from a nightclub or the distortion in techno are somehow in everything that I do, though.

200%: Some of the tracks, for instance the title track, has a retro feel. Are you looking for that in the music?
AC: We never sat down and discussed what sort of vibe the album should have and the fact that it would be retro. We connected with a specific aesthetic without talking about it. The retro element expanded from the first two pieces to the rest of the record.
We both grew up at a time where imperfections were part of media like blowing on a Nintendo cartridge to clear out dust that was preventing the game from working properly. [laughs] Another imperfection is a CD skipping or when the tape came out a cassette you had to get a pencil to put it back in. This could create a tape wobble when you played the cassette on your recorder again. I like stuff that sounds like it's been used which gives a certain warmth. I think the faults in the medium are what makes the music 'human' to a certain extent.
200%: We write about the lengths to which artists go for their art. Could you talk about the lengths you went for this album?
DA: Creating this record was an enjoyable experience, but how we made it was quite unusual. The fact that we were both travelling a lot during the making of the album meant that we were having to email music files to each other whilst travelling. We listened to ideas on trains and planes and then we had to find time in-between the travelling to create new ideas and add ideas which on paper seems like an unproductive way of doing things. I think, though, that's actually where the beauty of the record lies. They're all these small snapshots of ideas. It was always exciting to receive a new idea from Alessandro and equally exciting to hear what he thought of mine, but the length part comes from that we were having to find this extra time in order to do it. I think this record took a lot of effort in that regard, but I'm so happy with how it turned out.
Interview written and conducted by Thierry Somers
Photography: Steve Gullick / Emilie Elizabeth 
Alessandro Cortini and Daniel Avery – Illusion of Time
More 200% interviews with ambient musicians: Dustin O'Halloran (A Winged Victory for the Sullen), Murcof and Phanta du Prince