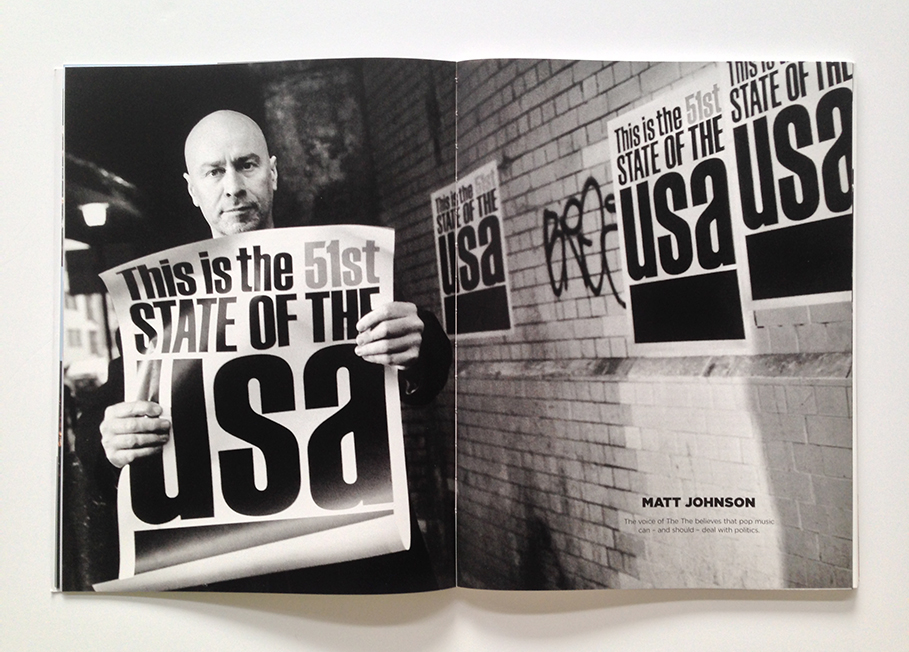 Music

The The / Radio Cineola 'Election Day'

Matt Johnson on his songs with political content.

In 2007 we published the second issue of 200% which featured a 16-page story on Matt Johnson, singer-songwriter and long-standing member of the British group The The.

We were keen to do an in-depth interview with the founder of the band on one single topic: his popular songs with political content. Including these songs on his albums has led to some conflict with major record companies, arguing that contemporary, popular music wasn't the right medium for that. Johnson remained persistent. As a result he has proven them all wrong with his combination of beautiful arresting melodies and political insight on subjects like globalisation, war, corporate greed, consumerism and religion.

Moreover, why can't popular music be the correct medium for songs with political content? Popular songs reach millions of people worldwide. A profound song, which addresses the concerns of human existence – such as death, loneliness, good and evil – common themes that people from all different cultural backgrounds can relate to will certainly achieve its goal.

Johnson expressed interest in an interview with 200%, but was also hesitant to give interviews. Not because he wasn't interested in talking about popular music with political content, but because he was frustrated with the fact that his views and opinions on this topic were minimized or even removed from the final story. After some e-mailing back and forth he agreed to participate.

Another reason for Johnson's participation was that he loved our idea for the photo shoot. We came up with the idea to create a series of large political posters made from lyrical clips of The The songs. Photographer Oscar Seykens was to photograph Johnson hanging the posters on the walls of the mean streets of London as a political activist would. Johnson assisted with the selection of the lyrical clips. He advised us that if they were too long to be striking, we were free to tweak them or break them down into smaller pieces for maximum impact.

We made four posters of his clips:
"This is the 51st State of the USA" – 'Heartland', from 'Infected'
"Mobilise, globalise, hypnotise, homogenise, shut your eyes, don't criticise" – 'Global Eyes', from 'Naked Self'
"Watch the Ships Sail out of harbour and the bodies come floating back" – 'Armageddon Days (Are Here Again)' from 'Mind Bomb'
"Our Youth, oh youth are being seduced, by the greedy hands of politics and half-truths" – 'The Beaten Generation' from 'Mind Bomb'
On the 200% website we posted impressions of the photo shoot in the form of a slideshow. Johnson offered to exclusively compose an upbeat and quirky track to accompany the mood of the shoot.
For 200%, we seek to make custom-made artwork with our interviewees. It was an enormous pleasure to collaborate with Johnson on the story. He was immensely pleased with the final result and thanked us for giving him the opportunity "to say all of the things that have been building up inside me for the last five years".

Now, in 2015, there will be a follow up made. Last year, Johnson shared with me his plans to do a live broadcast on Britain's general election, an 'Election Day' event, which is to air on his Radio Cineola broadcast channel. From midday to midnight on the 7th of May, there will be a live broadcast via the The The website with special guests, politics, interviews and music. Johnson will interview renowned geopolitical strategist and author William Engdahl, David Edwards from UK media watchdog Media Lens, John Kelly, former journalist at the Economist, Neil Clark from Russia Today Abdi Assadi, one of New York's top spiritual healers and many, many more.
The 'Election Day' project is to be filmed by the documentary filmmaker Johanna St Michaels. She asked me to interview Johnson regarding on his background story and his political and social commitment, which would run as the narrative throughout the feature-length documentary. Much has happened since 2007 and provides another opportunity for Johnson to say all the things that have been building up inside him for the last eight years.
He has been politically active in his local community and was a founding member of Save Shoreditch, East End Preservation Society and East End Trades Guild as well an an active member of the Shoreditch Community Association, fighting for conservation and against the eastwards expansion by the City of London into Shoreditch. Being a voracious consumer of news and current affairs, he closely followed the banking crisis, the phone hacking scandals, the Edward Snowden affair, and the drama surrounding Julian Assange and WikiLeaks.
Britain's general election is an excellent occasion to discuss some burning issues with Johnson: what makes him tick artistically, the dying business model of record labels due to piracy, if he still considers Britain to be the Fifty First State of the USA, and corruption in local, national and international politics.
So, tune in on Thursday May 7th on www.thethe.com from 12.00am GMT.
Written by Thierry Somers
Photography Oscar Seykens

The in-depth interview with Matt Johnson features in the second issue of 200%: http://200-percent.com/shop/