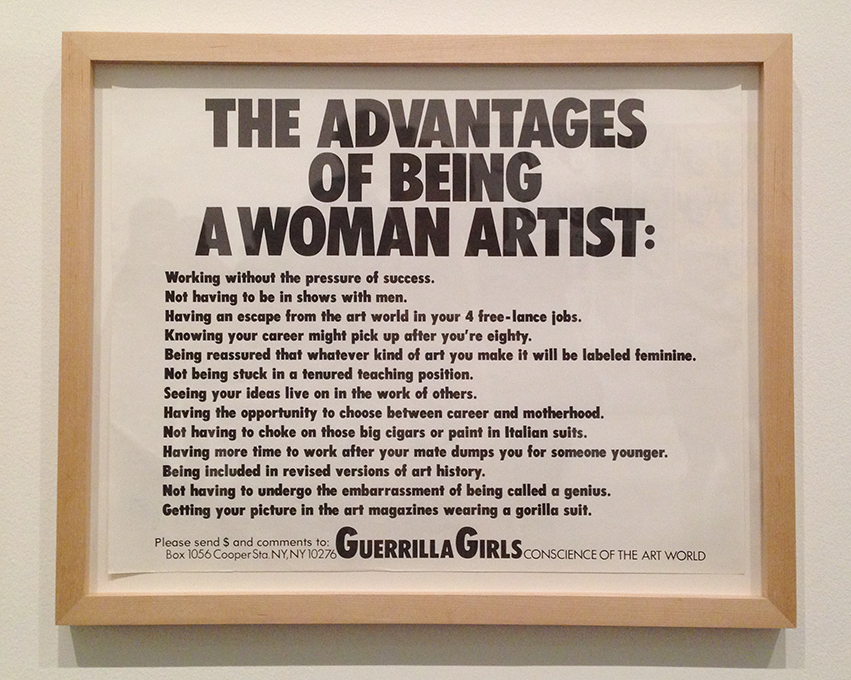 How many women did 200% interview since 2006?
The first room of Tate Modern's exhibition 'Media Networks', showcases a series of texts by Guerilla Girls, an anonymous activist group who highlight discrimination in the art world. On display are 11 screenprints on paper with cynical texts about discrimination of female artists, printed in Futura Condensed Bold, designed as protest posters. One of them lists several advantages of being a woman artist: "Being included in revised versions of art history" and "Working without the pressure of success".
The posters were produced from 1985-90 and gender inequality is still a topic of discussion in 2016. Art Review's 2015 Power 100 List features 38 women of which only five are artists. That is a frightful number, but the art world is taking numerous initiatives to highlight the work of female artists.
The inaugural show of Hauser & Wirth & Schimmel's new gallery space in Los Angeles is dedicated to Abstract Sculpture by Women. The Max Mara Art Prize for Women is a biannual award organised in collaboration with Whitechapel Gallery and is the only visual art prize for women in the UK. Last month, the Saatchi Gallery hosted "Champagne Life', an all-female show featuring the work of 14 female artists. In an article in the FT, Nigel Hurst, chief executive of the Saatchi Gallery, commented on the reason of bringing them together: "the woman-only show is a response to the raw deal that women artists still experience". I understand the motive, but I thought the show was incoherent. It was hard to see a common thread running through the show and the quality of the work left a lot to be desired.
The "raw deal" that Hurst mentions has been going on for ages. Linda Nochlin addressed it in her thought provoking essay "Why Have There Been No Great Women Artists?" published in Art News in 1971. The American art historian explores the obstacles that have prevented women in the West from succeeding in the arts.
"Great artists result from the sacrifices that you make to your personal life", says Marina Abramovic, in Sarah Thornton's book "33 Artists in 3 Acts". The Serbian performance artist, explains to Thornton one of the reasons why there are fewer women artists than men: "Women don't want to sacrifice their main functions to reproduce, to have a family, and the comforts of everyday life." It is quite a statement. Abramovic, though, doesn't have any children herself and so does the majority of the female interviewees in 200%.

Another poster, "Which Art Mag Was Worst For Women Last Year", lists the percentage of features, projects and one person show, reviews on women artists in the period of September 1985 – Summer 1986. Flash Art has the lowest score 13%, whereas Arts has the highest score 25%.
These percentages made me curious to know how 200% scores. How many women have I interviewed for 200% since 2006, the year the publication was founded?
To be honest, in selecting artists to feature in 200% I don't think about gender. I have three selection criteria:
1 Does the artist go to any length for their art?
2 Do I think the artist makes great art worthwhile to share with the 200% readers?
3 As I strive to make stories that have a timeless character, do I think the artist will continue to make great art in the future.

So here are the 200% facts and figures. Since 2006, I conducted 132 interviews for the print publication and website. Out of these interviewees 34 were female which makes a percentage of 26%. To be honest, I thought the percentage would be higher.
Conducting this self-analysis has created an awareness, though. I will take on board the remark given to Diane Brown Gallery on Guerilla Girls' 1986 Report Card, "Could do even better".
Written by Thierry Somers