Art
Jean-Michel Basquiat / Diego Cortez Interview
Jean-Michel Basquiat became an overnight success when the curator, Diego Cortez, included his work in the MoMA P.S.1 group show 'New York / New Wave' in 1981. Fifteen of the twenty works from that show have been reunited on the occasion of the artist's first UK retrospective, 'Boom for Real', at the Barbican. 200% spoke with Cortez about his memories of the late artist, his genius and the intricate backgrounds of his works, "I think Jean's real achievement is not the iconic figures in the foreground of his works, but the layered backgrounds where he furthers the idea of the visual collage".
It is a unique opportunity to view the works that launched Basquiat's career. His paintings and drawings still make an impact for its raw energy, directness and spontaneity. The son of a Haitian father and a Puerto Rican mother was a pioneer in bringing graffiti into a legitimate area of contemporary art. His work is sought after and Basquiat's 'Untitled' (1982) even set a new record price for an American artist when Yusaku Maezawa, paid 110.5 million dollars for the work at Sotheby's earlier this year.
The work Basquiat made before his breakthrough in the art world is also on display when he formed an artistic collaboration with Al Diaz. Henry Flint took pictures of their street art which they signed with SAMO (a contraction of 'same old, same old shit'). They sprayed intriguing, poetic slogans such as 'Playing Art with Daddy's Money' or 'MY MOUTH/THEREFORE AN ERROR' on walls in downtown New York and next to art galleries to attract the attention of the New York art scene.

The show provides visitors a plethora of documentary material and context to point out how layered and complex Basquiat's works are. A selection of the artist's extensive collection of art, music and anatomy books that inspired his works is presented alongside his paintings. He derived material from various sources and was a virtuoso in combining 'high' and 'low' culture. The wall texts explain how he used words, numbers, images and symbols to make visual and textual references to stories from the Bible, mythology, beat poetry, bebop jazz, African art and cartoons.

Basquiat used mythology and the Bible as a source of inspiration for his work just like Rembrandt did with 'The Blinding of Samson' or Rubens with 'Samson and Delilah'. Samson was also on Basquiat's mind in the triptych 'Ishtar'. The title refers to the Mesopotamian goddess of beauty, fertility and war. The photocopy collage glued on the canvas features doodles and words written in capitals; KINGS VII, 21, 22 refers to Samson breaking the pillars of the temple. SIDE VIEW OF AN OXEN JAW refers to 'jawbone of an ass', with which Samson slayed thousand of Philistines.
Basquiat's handwriting looks like he is writing with chalk on a blackboard surface and he crosses out, encircles or repeats words and sentences. By repeating words and sentences they create a musical rhythm like the melody of the chorus of a pop song lyric. Basquiat's use of text reminds Dieter Buchhart, co-curator of the Barbican show, of Kurt Schwitters's work; "When you read the words out loud you get a sound poem, just like Schwitters's 'Ursonate'." (1932).
Buchhart has also co-curated the superb Jean-Michel Basquiat retrospective at Fondation Beyeler in 2010. I attended the show myself which featured a stellar selection of Basquiat's most powerful paintings and drawings. The show in London focuses on Basquiat's "relationship to music, writing, performance, film and television, placing him within the wider cultural context of the time".

With 'New York / New Wave' Diego Cortez wanted to convey the sprawling energy of the downtown countercultural New York scene of the time. He selected 1.600 works by more than 100 emerging and celebrated artists including Andy Warhol, Robert Mapplethorpe and Nan Goldin.
There is a short interview clip with a young, slightly uncomfortable Cortez talking about the show back then. When the interviewer asks him if he thinks that a lot of the artists in the show are professionals, Cortez crosses his arms and answers, "… I haven't worried about the word professional. What is a professional? Were most of the musicians who made most of the good music for the last four years that comprised Punk and New Wave professionals?" In our interview Cortez was at ease, congenial and open-hearted in sharing his experiences with Basquiat.

200%: When did you meet Jean-Michel Basquiat?
Diego Cortez: I met him in 1979 on the dance floor of the Mudd Club. He looked very unusual; a black guy with a blonde Mohawk and he was dancing beautifully. We were friends for almost a year until I saw his SAMO graffiti. I then realised that he was a visual art genius. This work was incredible. As he was always broke I asked him to make some paintings and drawings so he could begin to make some money from his art. I could help him do that. Six months later he was in the P.S.1 show which I curated. I helped him as an agent and introduced him to collectors and later his primary dealer Bruno Bischofberger. After Jean-Michel's death I worked with his father on the estate's authentication committee. I have worked with many artists at the beginning of their careers – Shirin Neshat, Ellen Gallagher, Robert Mapplethorpe – but Jean-Michel became the most famous so I'm more defined by that particular work relationship rather than the other artists with whom I've worked.
200%: You must have an eye for recognizing talented artists.
DC: I think the idea of the eye is overestimated, it's really the brain. If you have a good knowledge of art history and have developed your own theories on such then you can recognize an artist who brings something new to the table. You can see how far they are advancing what has been done before. So, it's more of an intellectual than a visual exercise.

200%: You said he was a visual art genius. What attracted you in Basquiat's work?
DC: His intensity of line – the drawing aspect of his work. Artists like Basquiat or Cy Twombly are known as painters but their main achievement is really manifested in the drawing aspect of their work. Later on, Jean-Michel 'explodes' the twentieth century device known as the collage which existed from Constructivism and Cubism to Robert Rauschenberg.
What currently moves me lately the most about Jean-Michel's work are the backgrounds in the more developed works from the 1982-1986 period. Many people focus on the iconic figure in the foreground and perhaps its reference to African tribal art but when you look at the backgrounds of his works with photocopies glued on the canvas or other drawings that have already been fragmented into a micro fragmentation it 'explodes' the traditional idea of the collage. They become ambient backgrounds. It reminds me of the last scene of Antonioni's 'Zabriskie Point' where a bourgeois modern house explodes in the desert and the camera slowly zooms in on the slow-motion floating detritus – giving physical equality to all particles. Jean-Michel makes a break with the 'constructed' or 'contrived' collage that you see throughout the twentieth century. I believe that's where his real achievement can be found – the 'exploded' collage. People talk too much about the sociological aspect of his work rather than the art historical aspect. But that's exactly where his mind was.
Diego Cortez: Jean-Michel Basquiat makes a break with the 'constructed' or 'contrived' collage that you see throughout the twentieth century.

200%: How far did Jean-Michel Basquiat go for his art?
DC: He was very extreme and completely absorbed in his work. He had a short, but full working career in terms of an evolution of his work until his death. You see all these different periods and styles that would normally take place over 30 or 40 years of an artist's life but with him it was just in seven or eight years.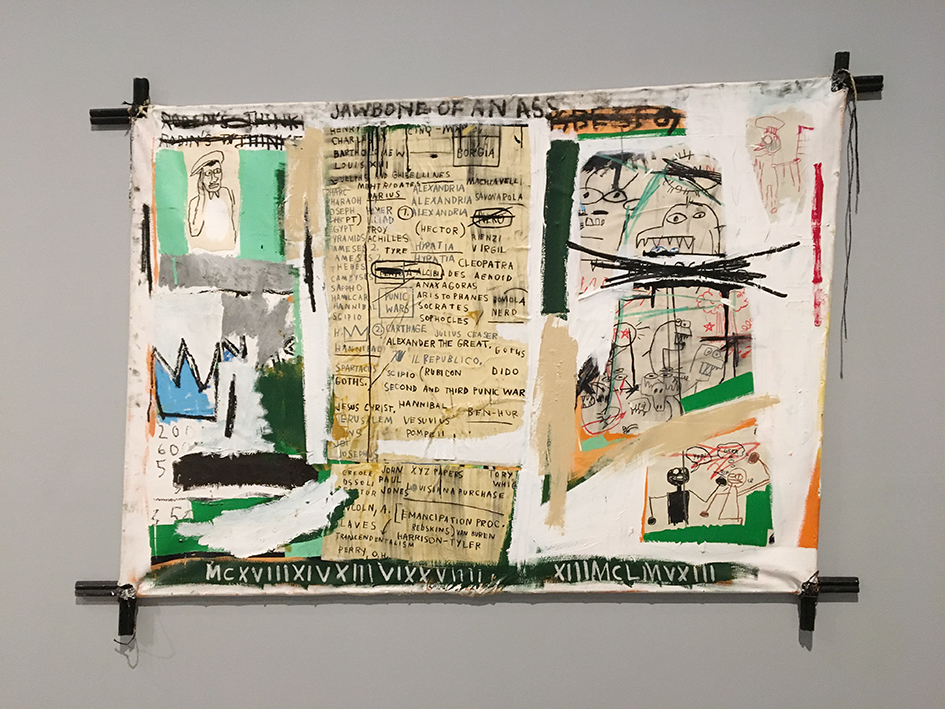 200%: Did Basquiat go quite far in addressing slavery, colonialism, racism in his work?
DC: Yes and no. On one level he was apolitical; he wasn't that involved in politics or talking about politics. He was basically focusing on his visual discoveries. There is political subject matter in his work, of course, but there is a complete lexicon in his work – the whole kitchen sink. There is an affinity with black culture obviously but he was also very interested in European and all world cultures. He was at ease in the art world at a time when it was predominately white. He helped alter that demographic. That also excited me.
Diego Cortez: Jean-Michel Basquiat was at ease in the art world when it was predominately white. He helped alter that demographic

200%: What is your view on the friendship between Jean-Michel and Andy Warhol? What did you think of their collaboration that was first exhibited at Tony Shafrazi Gallery?
DC: The friendship and artistic collaboration between them is historic. Much has been written and said about their friendship. I was close to Andy's friend, Henry Geldzahler, who contacted me after the 'New York/New Wave' show wanting to meet me. We became friends and Henry bought a work by Jean-Michel through me in March, 1981. It hung in his bedroom.
In the fall of that year, Henry told me Andy wanted me to interview Jean-Michel for Interview, but I suggested that Henry do so and that they ask James Van Der Zee to do the photographs. The magazine replied that they didn't permit outside photographers to contribute so I urged Henry to ask Andy to make an exception which he did and the result was stunning.
I went with Jean-Michel to the Harlem photo shoot. Van Der Zee first refused to take Jean-Michel's portrait as he felt it disrespectful that Jean-Michel came in ripped and paint-splattered jeans and a leather jacket – not exactly a Harlem Renaissance 'look'. I suggested a compromise that Jean-Michel wear my Jhane Barnes sport jacket with his jeans. Fortunately Van Der Zee and his wife, Donna, agreed.
The first Warhol-Basquiat collaborative works I saw were made with Francesco Clemente in 1984 at Francesco's studio which had been commissioned by their Zurich dealer, Bruno Bischofberger. Later, Bischofberger commissioned Andy and Jean-Michel to make a larger group of almost 80 two-person collaborative paintings together. Clearly Andy was enamored with Jean-Michel and his work or he wouldn't have taken such a financial and career risk to collaborate with a still emerging artist.
But this was typical of the democratic process inherent in Warhol's work. Like his relentless juxtapositions of celebrities vs. emerging artists in Interview – both with equal full-page representations, Warhol's collaboration works with Jean-Michel are democratic juxtapositions of a present star with a future star.

A group of these enormous paintings premiered in 1985 at the Tony Shafrazi Gallery. When I attended the opening I was frankly disappointed by them but they have grown on me over the years. I now fully appreciate them. They are the type of works which look best seen one at a time – not looking at a group of them in a commercial setting.
Much has been said about why Andy and Jean-Michel fell out after this collaboration. It was because Jean-Michel discovered that Andy was getting a larger % per painting. I feel none of the three parties was at fault and that it was a misunderstanding. Clearly Andy's prices for works at the time were much higher than Jean-Michel's, but Jean-Michel had thought he was getting a 50-50 split. Things should have made clearer to the two artists at the outset to avoid the ensuing blow-up and dissolution of this great friendship. Andy died suddenly in 1987 and Jean-Michel was devastated with this problem unresolved.

200%: Do you think there are any misunderstandings about Basquiat?
DC: People consider Jean-Michel to be a graffiti artist or a street artist but he was a studio artist. He did most of his work in a studio like most fine artists. He was interested in emerging street cultures and in his teens he was on the street a lot, in fact his high school was called City-As-School, but he was obviously obsessed by the histories of painting, drawing and sculpture. Jean-Michel called himself an autodidact. He is on the cusp between self-taught and academic painting. I'm sure he consumed more art books than most art school students.
Diego Cortez: People consider Jean-Michel Basquiat to be a graffiti artist but he was a studio artist as he did most of his work in a studio.

200%: What do you think of the partial reconstruction here at the Barbican of Basquiat's first show that you curated?
DC: It is not exactly the way I installed it at P.S. 1 but, to be honest, it actually looks better here. The original installation was on one wall, but as the ceilings at the Barbican are lower, the work is installed on two walls. I think it looks fantastic here.
Interview written and conducted by Thierry Somers.
Jean-Michel Basquiat, 'Boom for Real', until 28 Januari 2018, Barbican Art Gallery

Works (from top to below): Jean-Michel Basquiat: Ishtar (1982), King of the Zulus (1984-85), Detail of Ishtar (1982), Partial reconstruction of New York/ New Wave at the Barbican, Jean-Michel Basquiat at the Mudd Club, Five Fish Pieces (1983), King Zulu (1986), Jawbone of an Ass (1982), Portrait of Basquait by James Van Der Zee for Interview magazine, Andy Warhol/Jean-Michel Basquiat 'Arm and Hammer', Self Portrait (1984), Partial reconstruction of New York/ New Wave at the Barbican.