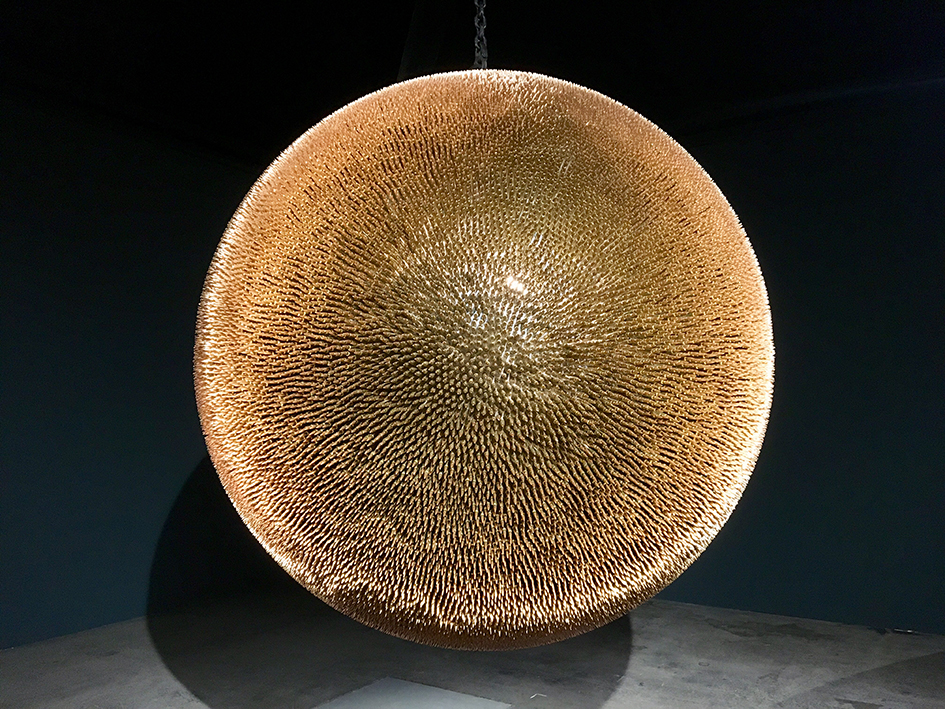 Art

Art Basel 2018

Impressions from the fair.

One of the most impressive and haunting works of the fair is 'Death Star' (II) by Robert Longo. It is a suspended globe studded with 40.000 copper and bronze bullets exhibited at Unlimited – a section of the fair dedicated to large scale works. In 1993, Longo made an earlier version of the work of a smaller globe with half the amount of bullets. The artist felt it was urgent to make a larger version because of the increase of violence and mass shootings incidents in the US in the last 25 years. The work is suspended in a dark room making the work look like a planet – unfortunately a violent one. 20% of the proceeds from the sale of Death Star II will be donated to Everytown for Gun Safety.

Death Star (II), Robert Longo, 2017-18, Metro Pictures, Galeries Thaddaeus Ropac


Robert Longo, Untitled (Refugees at Mediterranean Sea, Sub Saharan Migrants, July 25, 2017, 2018, Ink and charcoal on mounted paper, Metro Pictures
In another confrontational body of new work the American artist addresses the refugees crisis. From a distance the work looks like a photograph but when you come closer you will be amazed that the image is actually drawn.
Most of Longo's images are based on photographs that he sees in newspapers, magazines or the Internet. Alexander Ferrando of the gallery points out that Longo's images are not a one to one translation into charcoal. "Robert might take several different images and make a new composite image and draw that. In this case he has added more water below".
What is the added value of drawing a picture that looks like a photograph? "Robert would say there is a different resonance to a charcoal drawing and a photograph," Ferrando explains. "There is a human hand that has gone into these drawings and I think that is felt in the work. People are definitely drawn into the work as it is impressive to look at this meticulously drafted drawing. Robert talks about 'slow looking' in a time where people are scrolling through Instagram and absorbing imagery all the time. The moment when people realise that the image is actually drawn it makes them look at it longer and think more about what is being depicted. It makes them more invested".

Kerry James Marschall, Vignette (The Kiss), 2018, acrylic on PVC panel, Jack Shainman
One of the paintings that quickly sold on the VIP preview of Art Basel was Kerry James Marshall's Vignette (The Kiss) 2018. In 2003, Marshall started with the 'Vignette' series featuring two people running in the garden of Eden followed by a group of five paintings in 2005. The paintings allude to rococo, an exuberantly decorative 18th-century European style of painting.
The new addition in the series is a sweet and charming depiction of two people kissing each other on the stairs in front of a house. The boy seems a little surprised when the girl kisses him filled with passion and her eyes closed. His eyes are still open and he slightly loses his balance when the girl pulls him toward her. The couple are surrounded by three large daisies. As a viewer you feel a bit of an intruder watching this intimate scene.
Tamsen Greene, senior director of Jack Shainman Gallery and works closely with Marshall, tells me that the composition of the painting is based on a scene that Marshall witnessed himself. "Kerry was driving through a tougher neighbourhood of Chicago and he looked out of the window of his car and saw this scene happening before his eyes". Greene continues, "Kerry wanted to use the language of rococo paintings to show people of colour in love. It's a mutual loving piece. The vignette series are not about power dynamics between gender, they are really about love."
What does Greene think of the current popularity of Marshall's work? "The 2016-17 American traveling retrospective was the first time that people could see the breadth of his practice. It's serious painting, but extremely accessible. There is a lot of joy and humanity in the work. This moment where he has reached a certain tipping point and people know his work more than ever is a long time coming and really gratifying".

Theo van Doesburg, Still Life, 1916, Von Bartha
On display at the Swiss dealer is 'Still Life' by Theo van Doesburg (1916) a keywork of his oeuvre. It is made in between the figurative painting 'The Cardplayers' (1916) and an abstract painting of a Woman's Head (1917) built up out of rectangles. "It is transitional work," says Stefan von Bartha. "He needed this painting to come to his most famous works".
In the period of 1916, Van Doesburg started to experiment which abstract painting which evolved later in his series of Counter-Compositions of rectangles and squares in primary colours positioned in angle of 45 degrees.
"What is also interesting about this painting is how Van Doesburg painted a black rectangle around the painting", remarks Von Bartha. "Part of it is on the frame and another part on the canvas. The frame really becomes part of the composition."


Dana Schutz, The Wanderer, 2018, Petzel Gallery
A weird but amusing painting is Schutz's new work of a grotesk figure walking on the beach wearing an ankle monitor. Unlike 'Open Casket' – a depiction of Emmett Till's dead body in an open casket at his funeral that caused a lot of controversy when it was shown at the Whitney Biennial in 2017 – this work comes from the artist's imagination.
Looking at the painting my mind starts to wonder. Why is the figure wearing an ankle monitor? Is he a defendant under house arrest or parole? What has he done? Is the painting called 'The Wanderer' as the figure is walking aimlessly within an allowed range otherwise the police will be notified?
The figure has a mischievous grin on his face. Is that the grin of a madman or has he got something on his mind? The crabs on the beach look like they are panicking. Is he going to crush them with his bare feet? 'The Wanderer' makes me wonder.



Paul McCarthy, CSSC Luncheon on the Grass, 2015-2018, Xavier Hufkens

Sarah Crowner, Casey Kaplan Gallery

Kerstin Bratsch, Unstable Talismanic Rendering _Psychopompo (with gratitude to master marbler Dirk Lange, 2017, GioMarconi

Irving Penn, Construction Leftovers, 1980, Pace McGill Gallery

Ron Terada, TL:DR 1, 2017-2018, 52 paintings, acrylic on canvas, Catriona Jeffries

Ed Atkins, Good Man, 2017, HD video with stereo sound, Gavin Brown Enterprise

George Condo, The Actress, 2018, Skarstedt

Tomas Saraceno, Aerosolar Ursa Major, 2018 and Cumulonimbus calvus/M+M, 2018, Esther Schipper


Thomas Demand, Workshop, 2017, Matthew Marks Gallery
A life-size build violin workshop constructed out of paper-and-cardboard photographed by the artist. Magnificent!

Sarah Sze, Model for a Sunset, 2018, Mixed media, ceramic, archival prints, tooth picks, acrylic paint, branches, Tanya Bonakdar

Kazuo Shiraga, Untitled, 1959, Lévy Gorvy
Fergus McCaffrey and Lévy Gorvy are showing works by the Japanese artist. For this so called performance painting the artist hang himself above a canvas filled with blobs of paint and painted the work with his bare feet.
Written by Thierry Somers